This week I had a mini research project to undertake for myself, so I have decided to write about that.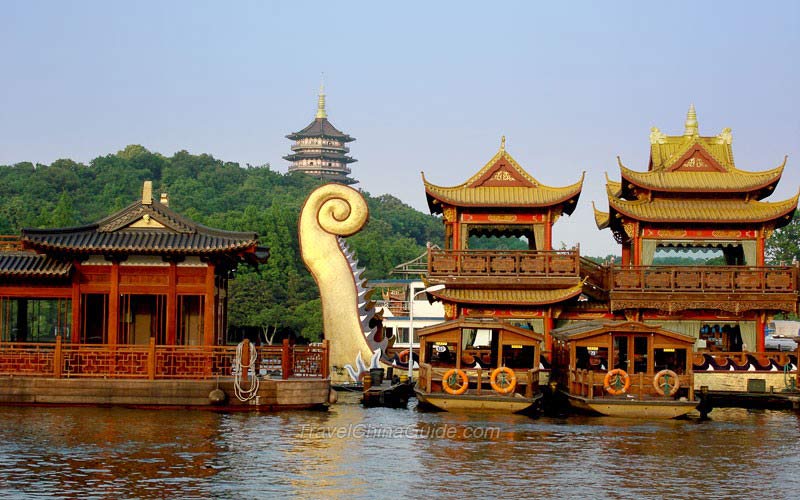 I have been lucky enough to be selected for the Annual NMIT China visit.  A tutor, fellow student and I are heading to the City of Hang Zhou (pronounced hang joh) for three weeks, we will be teaching an accelerated version of NMITs SDV601 (Software Development paper).
I know very little about China and so the first place to look was obviously Google (being an IT Student as I am), this is a form of secondary research and what I discovered follows:
Wikipedia reveals that Hang Zhou has a long history, it is located at the head of Hang Zhou bay.  The City grew to prominence as it is located at the Southern End of the Grand Canal.  China's Grand Canal has a total length of 1776km, making it the longest man made river on earth.  The earliest parts of the canal were constructed in the 5th century, although the various sections were all connected by the end of the 7th century.  This is crazy when you think that the oldest still functional canal in Europe is about 1000 years newer (Ref).  It was actually the Chinese that invented the 'pound lock' (Ref) commonly found in canals all over the world nowadays.
Modern day HangZhou is the capital city of the HangZhou Metropolitanon area (population 21 million), with the City itself registering a population of over 8 million, this is not large by Chinese Standards, Hang Zhou is the 7th Largest City in China and a very long way behind Guangzhou which is home to over 44 million people (11 times the population of NZ) (Ref)
In 1992 HangZhou became part of the Ningbo Free Trade Zone and so became more accessible and open to the world.  Its main industries are manufacturing, agriculture and textiles. It is considered to be a important logistics hub for coastal China
Hangzhou has a lot of history and associated tourism. To the West of the CBD is West Lake, this is a UNESCO World Heritage site and is home to many historic temples.  The lake is seperated into 5 sections by 3 man made causeways. It is significant in local history and it has been the source of inspiration to many for over 2000 years.
Adjacent to West Lake is Phoenix Mountain, this is the highest point in the district and is reputedly the remains of a Golden Phoenix and Jade dragon who had been trying to recover a beautiful pearl that had been stolen from them by a queen goddess.  The pearl had fallen to earth and transformed into West Lake, the Dragon and Phoenix remained by the lake to guard it and eventually became the mountains.
One thing that fascinated me about this place are the names, which include:
Lingyin Temple, Hefang Street, Grand Canal, Six Harmonies Pagoda, Temple of General Yue Fei, Xixi Wetland National Park, Thousand Islets Lake, Wuzhen Water Town
What wonderful names, I really can't stop convincing myself that I am going to visit the land of Hyrule from the Nintendo game, Legend of Zelda
After finding out a little about the City I was keen to learn about this 'Great Firewall of China' that purportedly blocks out some of the Wests more popular website and what Chinese people use instead. Time to get out there on the web and do a bit of primary research:
Google is blocked in China, they instead use a website called baidu.com, this is basically a Google clone, although interestingly it seems to often give academic centred results, about universities.
Youku-soku is the popular alternative to Youtube (blocked) and basically offers the same stuff (Cat videos) but with a clunky  website and lots of ads.
Weibo seems to be their take on Facebook (Blocked), but my personal favorite is QQ.com, a news and media site, I enjoyed this one mainly because I like its logo, reminds me of something, (check it out here), but also because when I checked it out it had the particularly intriguing headlines
'Truck Rollover Pineapple Looting' & 'Bear children practicing archery accidentally pierced the windscreen'
you can see the pineapple looters here
So, with this fact finding mission over, it was time to collect some anecdotal advice from people that had previously been to Hang Zhou.  There are plenty of people to speak to on the faculty, it was interesting to hear different advice from different people and gave an interesting insight into some of the discussions we have had about truth and bias. when questioned on general advice for the trip each person gave certain pieces of advice that in some ways reflected their personality:
Mary P (Head of IT) – Gave advice on how to assist the Chinese students, and reflected on some of the cultural differences that lead to different student types. She also recommended that we try all the food, regardless of what it looks like.
Michelle A (business tutor) – Recommended different foods to maybe consider taking with us.  and also offered helpful advice on other items we may want to take.  She told us about some of the specialised shopping opportunities and how to haggle in markets.
John (frequent visitor to Hang Zhou) – Spoke about some of the architecture to look out for, long bridges, roads, large prison etc. Also recommended we take coffee.
Craig N (IT Tutor / Geek extraordinaire) – Spoke about how to sort out a sim card and get online in China, which Apps to download.  He also recommended that we talk to random people in the supermarket and wander about.
All of the lecturers raved about the food, and recommended that we shop to our hearts content.
Should be a great trip